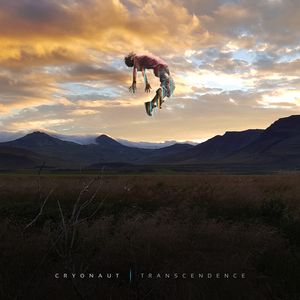 This is a post of firsts. First blogging attempt, first album completed, and my first stab at a decent website to showcase it all. At long last, my debut album is finally finished, and I couldn't be happier! I first started work on the track "Robot" in 2010 (released in 2011 as "The Robot Will Save Us"), and have slowly but steadily put out track after track on my YouTube channel for the following 9 years. It's been a long, slow process, but the amazing feedback and encouragement I've received from YouTube listeners has kept me going. Just one positive comment is all it takes for me to re-energize and get back to producing again, and I'm grateful for each and every person who has taken the time to comment on my music. If you're one of those kind souls, then a sincere thank you! 
The title of the album is "Transcendence". On the surface, it means the elevation of a person from this world into something beyond, and in a way, I hope that the music contained within can indeed "transport" the listener into a fascinating world. It's also a personal statement of sorts, in that I've finally been able to scale back my regular job and focus more on music creation (transcending into being a musician, and not a 9 to 5 slave). It's what I've always wanted to do with my life, so this is big for me. Finally, it's also a nod to my dream of someday transcending into a beautiful future world, whether that's a better version of this physical world, or perhaps something beyond our current physical reality. Yeah, the idea's a little out there, but it's exciting for me to think about. Technology tends to progress exponentially, so you never know how fast things might change for the better. Who knows – maybe we'll make it... 
The 10 tracks on the album have all been released previously on YouTube, so if you've heard them there, you'll recognized them here. However, the album versions are notably superior, and not just because they've been professionally mastered. When digging out each track to prepare it for mastering, I decided to enhance some of the older ones with new instrumentation and arrangements. Robot is a clear improvement, as I have learned a trick or two in the eight years since originally releasing it. Nanoverture, Space Faring Species and Electric Joy have also benefited from a few enhancements here and there. 
The album was mastered at Lacquer Channel Mastering in Toronto, and I think the final product is worth the expense. Noah Mintz was able to make everything sound better than I ever could, and as a result, every track sounds great (IMHO) on just about anything you want to play it on. It was a worthwhile investment, but I know many amateur producers debate whether or not to pony up for professional mastering versus doing it themselves with plug-ins or online. I've tried doing it both ways now, so this might warrant a separate blog post... 
I used to have a website up and running for a few years, but it was never that easy to update and maintain, and as a result, it got pretty stagnant. Thankfully I've moved over to a new platform which is much more user friendly and geared towards musicians. It took longer than I would have liked to get it up and running, but I'm very happy with how it's turned out. This site will be the hub of everything I do musically, so if you're interested in keeping up with what I'm working on, please sign up for my email list at the bottom of the homepage. I aim to have regular blog posts like this one in between song releases. 
Now that the album and website are done, I'll be putting my music out there via online distribution (iTunes, Spotify, etc.), as well as pitching it to various music review sites, blogs and "tastemakers" online. With a little luck, maybe it'll get some traction. Then it's back into the studio, where I'll continue working on another handful of tracks that are in various stages of completion (and plenty more ideas percolating in my head). Here's hoping that it won't take me another 9 years to put out the next album! :)